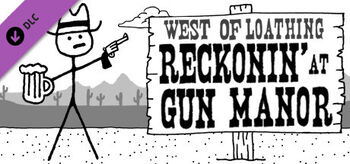 Reckonin' at Gun Manor is the long-awaited DLC for the main game which was released February 8, 2019. and begins with the appearance of a ghostly coach from T. Gun and Co. Ltd. in Dirtwater. Hitching a ride on the coach brings you and yer pardner to Gun Manor. Once there, you can either take the coach back to Dirtwater, or stay.
Description
[
]
A ghostly carriage arrives in Dirtwater. Only you can see it, and it only goes one place -- the mysterious Gun Manor.
A brand new West of Loathing adventure, full of all the things you've come to expect from the Loathing brand:
A few more hours of that sweet, sweet gameplay
Challenging puzzles (which are also new)
Scads of new goofs and gags
No new gulches (sorry, we're all gulched out)
Who can solve the mystery of Gun Manor? Is it you? It's probably you.
System requirements
[
]
Minimum
Recommended

OS: Windows XP SP2+
Processor: 2.8 GHz Intel® Core™2 Duo or better
Memory: 2 GB RAM
Graphics: 512 MB
Storage: 4 GB available space

OS: Windows 7 SP1+
Processor: 3.3 GHz Intel® Core™2 Duo or better
Memory: 4 GB RAM
Graphics: 1 GB
Storage: 4 GB available space
Minimum
Recommended

OS: 10.9+
Processor: 2.5 GHz Intel® Core™2 Duo or better
Memory: 2 GB RAM
Graphics: 512 MB
Storage: 4 GB available space

OS: 10.9+
Processor: 3.3 GHz Intel® Core™2 Duo or better
Memory: 4 GB RAM
Graphics: 1 GB
Storage: 4 GB available space
Minimum
Recommended

Processor: 3.3 GHz Intel® Core™2 Duo or better
Memory: 2 GB RAM
Graphics: 512 MB
Storage: 4 GB available space

Processor: 3.6 GHz Intel® Core™2 Duo or better
Memory: 4 GB RAM
Graphics: 1 GB
Storage: 4 GB available space
Gallery
[
]
Links
[
]