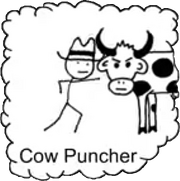 "Cow Punchers solve their problems with their fists, whether it's shaking them at a disagreeable feller in a disreputable saloon or using them to punch a slightly more disagreeable feller in a slightly less reputable saloon.
You've heard that Cow Punchers are in demand out West since The Cows Came Home, which stands to reason. The Cows aren't gonna punch themselves, after all."
- In-game class description. Cow Puncher is one of three character classes in West of Loathing. The Cow Puncher primarily uses the Muscle stat, reducing experience costs by fifty percent.
Skills
Other Skills
Community content is available under
CC-BY-SA
unless otherwise noted.