"Cow Punchers solve their problems with their fists, whether it's shaking them at a disagreeable feller in a disreputable saloon or using them to punch a slightly more disagreeable feller in a slightly less reputable saloon.
You've heard that Cow Punchers are in demand out West since The Cows Came Home, which stands to reason. The Cows aren't gonna punch themselves, after all."
- In-game class description.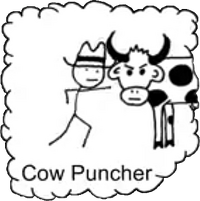 Cow Puncher is one of three possible character classes in West of Loathing. The Cow Puncher favors the Muscle stat, reducing its experience costs by half.
Skills
[
]
Skill Progression
[
]
| Level | AP Cost | Muscle Increase |
| --- | --- | --- |
| 1 | 1 | 2 |
| 2 | 1 | 4 |
| 3 | 1 | 8 |
| 4 | 1 | 12 |
| 5 | 1 | 16 |
| Level | AP Cost | Health Recovered |
| --- | --- | --- |
| 1 | 1 | 15 |
| 2 | 1 | 20 |
| 3 | 1 | 25 |
| 4 | 1 | 30 |
| 5 | 1 | 35 |
| Level | AP Cost | Damage | Rounds Stunned |
| --- | --- | --- | --- |
| 1 | 2 | 10 | 1 |
| 2 | 2 | 20 | 1 |
| 3 | 2 | 30 | 2 |
| 4 | 2 | 40 | 2 |
| 5 | 2 | 50 | 3 |
Bull Stomp (After this point skills need their numbers checked)
| Level | AP Cost | Damage |
| --- | --- | --- |
| 1 | 1 | 3 |
| 2 | 1 | 6 |
| 3 | 1 | 9 |
| 4 | 1 | 12 |
| 5 | 1 | 15 |
| Level | AP Cost | Hits | Added Damage Per Hit |
| --- | --- | --- | --- |
| 1 | 3 | 3 | 1 |
| 2 | 3 | 3 | 3 |
| 3 | 3 | 3 | 5 |
| 4 | 3 | 3 | 7 |
| 5 | 3 | 4 | 7 |
| Level | AP Cost | Muscle Reduced |
| --- | --- | --- |
| 1 | 2 | 4 |
| 2 | 2 | 6 |
| 3 | 2 | 8 |
| 4 | 2 | 10 |
| 5 | 2 | 11 |
| Level | AP Cost | Base Damage |
| --- | --- | --- |
| 1 | 2 | 5 |
| 2 | 2 | 10 |
| 3 | 2 | 15 |
| 4 | 2 | 20 |
| 5 | 2 | 25 |
Misc Skills
[
]